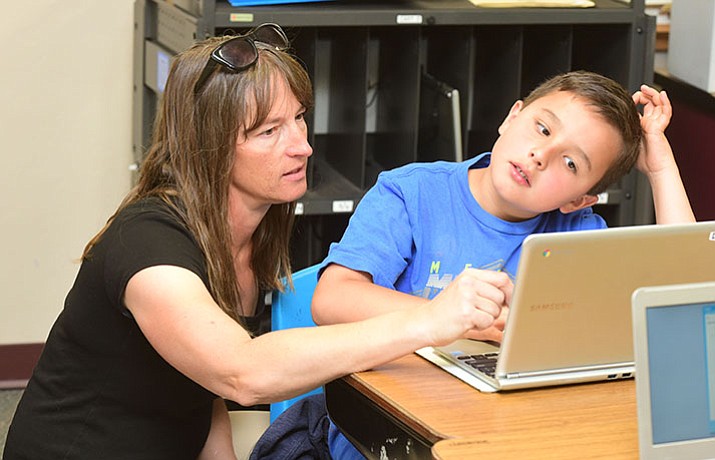 Chino Valley Schools Superintendent John Scholl's concern about the state Legislature's expansion of educational vouchers for private and parochial schools is beyond potential impact to his district.
As a taxpayer, and an educator, Scholl said he is dismayed about funneling public dollars into private institutions. He sees this not as a matter of choice, but financial and educational responsibility.
Scholl and his two Tri-City colleagues, Prescott Unified School District Superintendent Joe Howard and Humboldt Unified School District Superintendent Dan Streeter, last week voiced fears about the ramifications of what are officially called Empowerment Scholarship Accounts.
Arizona is now at the bottom rung of public education funding, the three said. This will just erode more dollars from the education of the majority of this state's student body, they said.
"The expansion of ESAs has done nothing to address the most critical areas of education," Streeter said, noting the three key focuses are recruitment and retention of high-quality teachers, capital improvements and early childhood education. "It's unfortunate that our state leaders aren't even having the right conversations."
Scholl concurs.
"How do we know that students are getting the education they deserve?" he queried. "I think it's irresponsible to give that money away. You could end up with a 'pop-up' private school, and that's not the kind of education we should be giving to the students of Arizona."
Under the legislation, parents of up to a maximum of 5,000 children per year are eligible to use 90 percent of the education tax dollars assigned to their child — 100 percent for low-income children — to customize that education.
Arizona's voucher system was initiated in 2011 with the aim of giving parents with special needs children the ability to select places offering services they could not obtain in public schools. Lawmakers who favored this measure say they want the same for non-disabled students.
Sacred Heart Roman Catholic School Principal Pamela Dickerson said state educational assistance has long benefitted many of the 200 students attending the pre-kindergarten to eighth grade school. This expansion will offer more families the option of parochial education regardless of income, a step she considers a positive move.
La Tierra Community School Director Lena Studnicka admits she has similar reservations to the area public school superintendents. She said she intends to do more research on the issue, and then advocate to assure these private institutions are not gaining an unfair financial advantage.
"I will concentrate on protecting our little nest here," Studnicka said.
The entire structure of this brand of funding is "scary," Howard said.
With legislators suggesting this is a phase-in project, with the intention of expanding it further in the future, Howard said he fears for the long-term funding priorities of public education.
"I call this a 'Trojan horse,'" Howard said.
Newly elected State Rep. David Stringer of Prescott sees the program as an effective means for Arizona families to choose the highest-performing brand of education to fit their child.
The nation's traditional public school model no longer suits the top 30 to 40 percent of students because a disproportionate amount of time must often be spent on those who are not as academically talented, interested or who come from families to whom education is not as high a priority, Stringer said.
ESAs are a way to offer families another option, and Stringer argues it is not about affluence but parental interest and involvement.
"My goal as a legislator is to promote the best, highest level of education that we can at the best cost to the taxpayer," Stringer said. "If we can educate children through an ESA, an education that parents want, and we can do it at no higher rate than district schools, why isn't that a net benefit?"
All three superintendents said they will ask their governing boards to sign an Arizona School Boards Association resolution that condemns the law signed by Gov. Doug Ducey. Prescott Unified School District Governing Board met on Tuesday, May 2; the other two meet the following week.
The threesome pledged their district's ongoing pursuit of academic excellence despite concerns for the long-term financial sustainability for public education.
"We continue to do an amazing job for our students," Howard said. "PUSD is a place for all (students) to find their passion with a high level of academic performance."
"We will remain steadfast in our commitment to providing a comprehensive, world-class education for all students," Streeter said.
"We need to keep fighting the fight in each individual district," Scholl concluded.
-Originally published by Nanci Hutson, Daily Courier, on 5/3/17 at 6:01 am